A photo of our stand at the "Sports and Fitness Expo" held the Royal Exhibition Building. We were showcasing our Glamour Fitness Photography. Photo Mode has its own in-house gym.
Some examples of Posters we offered and supplied to Clients.
Many of the women who came to us for the Makeover Photography were members of a gymnasium or did aerobics and had Fitness Photos taken also.
Glamour Fitness Photography
Australian Figure Body Building Champion
Studio
Studio and Location
In Studio Gym
In Studio Gym
In Studio Gym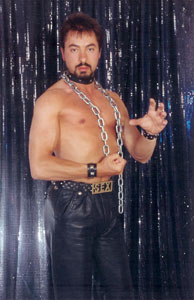 For Sports People - Promtional
Helping Models
Trudi came to us as a client. She was a Body Builder with a model's figure. She wanted to get into modelling and we kicked started her career. This photo appeared in 'The Sunday Herald Sun' in Palmer's Punchlines Column (taken by a staff phtographer). We then sent her to a Melbourne photographer who produces and markets fitness calendars. Trudi appeared in one of these.